Hydraulic Rotary Actuators motor
(나선형 유압 진동 모터)
Product internal structure
Description
나선형 유압 스윙 모터 의 작업 원리: 미끄럼 스플라인 조작기술을 통해 피스톤의 직선운동을 강력한 축의 진동으로 전환시킨다.
모든 스윙모터는 하나의 하우징과 두개 운동부품의 중심축과 피스톤으로 구성된다.
피스톤 외경위의 두번째 나선형 스플라인 키는 하우징의 기어와 서로 맞물려 있다.
Hydraulic Rotary Actuators motor The operating concept of the Hydraulic rotary actuators designed and manufactured by:
The linear motion of the piston is converted into a rotation movement by twin helical gears ,
the first between the piston and the splined bushing,
the second matching helical gears between the shaft and the piston.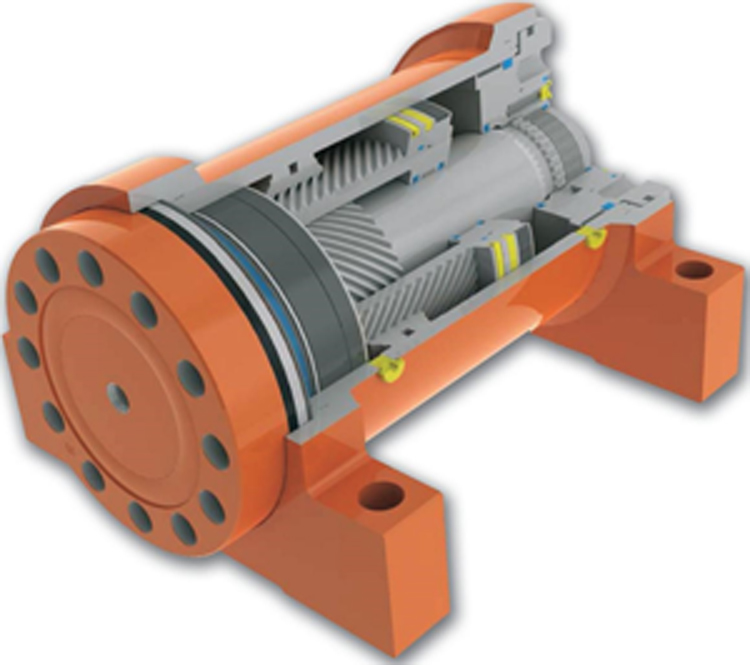 Main features


Powerful High Torque

- High Bearing Capacity
- Durable Moving parts enclosed

Durable

- Moving parts enclosed
- Suitable for harsh environments

Drift free positioning

- Zero internal leakage
- Smooth operation
- No external brake required

Streamlined design

- Eliminate linkages and bearings
- Reduced bill of materials

Simplifies

- Reduced bill of materials
- Eliminate linkages and bearings
- Simplifies supply chain,assembly and maintenance

Backdrives in
overland conditions

- Hydraulic fuse
- Prevents mechanical damage
Applications
농업, 자재처리,건축, 군사, 에너지, 광산, 선박, 트럭.트레일러 및 기타업종
Agriculture、Material handing、Construction、Military、Energy、Mining、Marine, Truck/Trailer And many others…
나선 유압 진동모터는 이동, 지지 및 위치설정에 사용된다.
Hydraulic Rotary Actuators motor actuators move, support and position…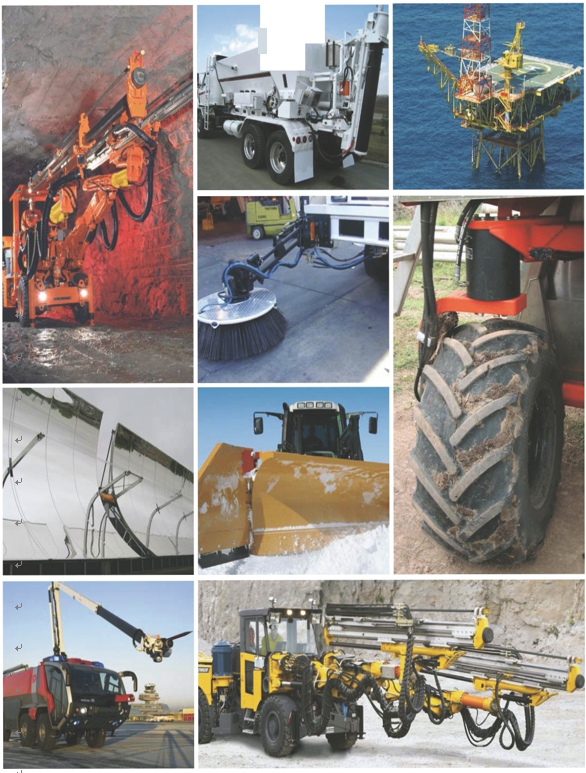 Model Code Desription

Z10 Series

Z20 Series

Z30 Series

Actuator Series

Z10

Z20

Z30

Torque in-Ld

1.7 15
3.0 25
5.5 80
9.5

4.5 30
8.2 39
15
25

17 80 165
25 95 215
42 HP125 380
65 125

Standard Rotation

180-180°
360-360°

180-180°

180-180°
360-360°

Special Rotation

Standard design with intemal stop tube to linit rotation - indicates rotation

Screw

English Screw

Metric Screw

Custom Design

Housing Configuration

Rear Flange

Foot Mount

Foot Mount
Front Flange

Shaft/End cap
Configuration

SC-Mounting holes in shaft flange only

SC-Mounting holes in shaft flange with through-hole for tie rod(4.5,8.2,and 15k models) DC-Mounting holes in shaft and end cap flanges (25 and 39k models)

SC-Mounting holes in shaft flange only DC-Mounting holes in shaft and end cap flanges CL-Clevis RL-Rail RB-Reinforced plat

Valve Options

C-Counterbalance Valve

O-No Valve

V-Valve Ready

CO4-7/16 UNF油口;SAE-4 Port CG4-G1/4油口;G1/4 Port
CO6-9/16 UNF油口;SAE-6 Port CG6-G3/8油口;G3/8 Port

Seals

H-Standard Seals and Bearings

S-Special Seals and Bearings
기타 필요 자료는 요청시 추가제공
If you need more information ask to us
검색키워드 : 농업, 자재처리,건축, 군사, 에너지, 광산, 선박, 트럭.트레일러